Legal Accounting Software
Automated & Full Legal Accounting Software
Most Case Management Systems on the market have basic "Trust Accounting" features, but not a full Accounting system, and certainly not an automated one! In most cases their accounting solution rests on integration with 3rd party accounting providers like Xero, QuickBooks, Sage, etc, which in most cases are not a good fit as far as Legal Accounting is concerned. fastMatter is a Legal Accounting System in itself!
Transactions are created automatically while you deposit money into Client Acc, create Disbursements, create Bills and pay them, enter Expenses, etc
fully separate Trust Accounts (Client account, Deposit account, etc)
you can create as many separate Trust Accounts as you need
easy bank reconciliation
Expense tracking
Trial Balance
Year-End functionality
Disbursements from Client and Office accounts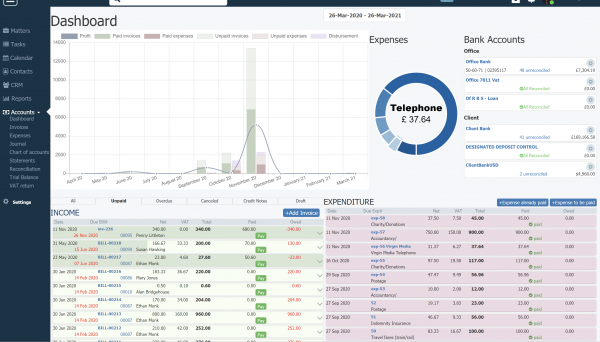 Smart Dashboard
...where you can perform most of your basic accounting tasks
fastMatter Dashboard is designed so that the Cashiers can perform most of their day-to-day activities from this intuitively designed screen
Partners and Practice Managers can instantly get a very visual overview of the law-firm's financial performance
Cashflow chart includes office disbursements.
One can add and remove elements from Cashflow chart as one sees fit.
Expense chart is categorised by particular overhead accounts
Accounts Watchlist includes all the bank accounts with easy link to related bank-reconciliation screen.
Other accounts can be added to the Watchlist, as one sees fit (VAT, Disbursements, etc)
For convenience and efficient workflow, the Invoices and Expenses lists appear as an "Income&Expenditure" statement., which allow opening any bill/invoice or expense in question.
Invoices column allows for easy tracking of unpaid and draft invoices. This is also where you can generate new invoices for any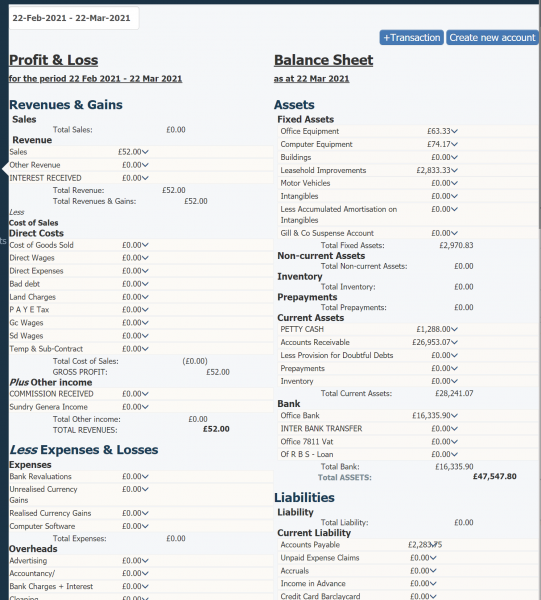 Profit&Loss and Balance Sheet
fastMatter calculates your Profit&Loss and Balance Sheet statements at a blink of an eye (literally)
You can calculate and re-calculate it for any desired period (Financial Year, Calendar Year, Quarter, Month, Week, Day)
presented view is dynamic, which means that you can drill down into particular accounts and transactions without leaving this view (very useful).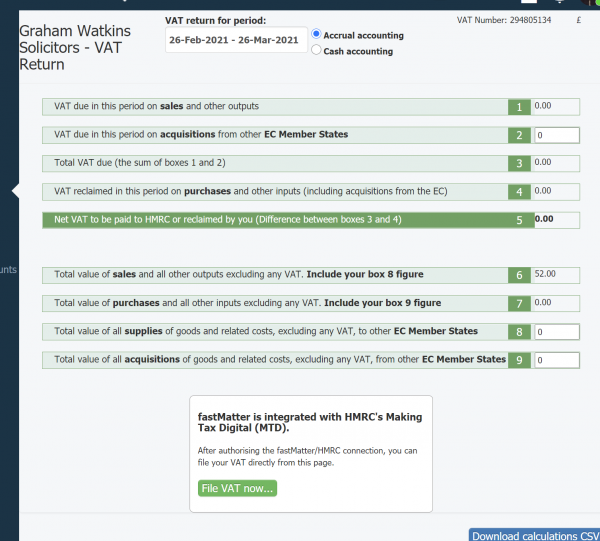 VAT calculation
(Accrual & Cash methods)
fastMatter calculates your VAT on the fly
you can calculate VAT according to both "Cash Accounting" and "Accrual Accounting" methods
Since fastMatter is MDT ready, you can file your quarterly VAT return digitally with a click of a button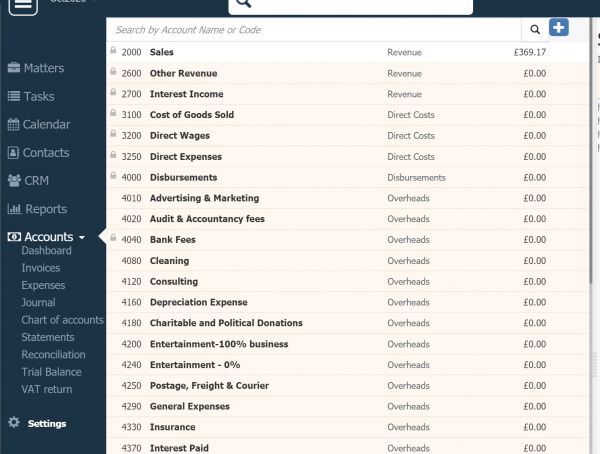 Chart of Accounts
Because fastMatter is a fully fledged accounting system, it comes with a full Chart of Accounts with 90 default pre-configured accounts, against which transactions are recorded.
You are able to reconfigure the accounts to fit your style of bookkeeping
Multi-Currency
You can maintain accounts in any currency.
Exchange rates are updated hourly.
In effect, you can keep a separate Client Account in Euros or USD or (any other of 100+ world currencies), and when you create a transaction moving money to an account with your native currency, fastMatter will automatically check and suggest the current rate and suggest the appropriate amount (of course, you can change the amount as you see fit).
Client Interest calculation
This is a seemingly small, but very useful feature that many Legal Software providers simply don't have
fastMatter will calculate how many days have passed since each date that the Client account balance in a particular matter has been updated, and it will cumulatively calculate the interest amount.
You can change the interest rate.
You can even change the number of days to offset.
fastMatter recalculates everything at the blink of an eye. No page reloads.
SRA rules compliance
fastMatter has the key elements of SRA Accounts Rules built into its code.
e.g. if you try to pay a £1,000 bill from Client account, it will automatically check if that matter has at least £1,000 in its Client account. If it doesn't it will warn you; it will disable the "Create transaction" button, and suggest an alternative amount. But it will also show you a link "Yes, I know. Do it anyway" link that will unlock the "Create transaction" button. Effectively, fastMatter's aim is not to "dictate" and "restrict" transactions, but to subtly guide you in a way that will help you stay SRA compliant.
Every time you try to move money from the Client account to your Office account, fastMatter will ask for a reference to a bill. This creates a robust audit trail.
Making Tax Digital READY
fastMatter calculates your VAT on the fly. Correct to the last penny.
file your quarterly VAT return directly to HMRC from inside fastMatter
fastMatter does all calculations for you. Both Accrual and Cash accounting methods are supported.
fastMatter is one of the very few Legal Software providers listed on HMRC's approved suppliers list!
Automate your bookkeeping with clean automated transactions added while you create your invoices, record expenses and perform bank-reconciliation (the smart way)